Attribution:
My Kawartha News Peterborough This Week
Alzheimer's disease is irreversible, incurable and, eventually, fatal.
"It is devastating when a person who helped raise you completely forgets who you are," said Melanie Hele, who lost her 60-year-old father, Steven Vesterfelt, to Alzheimers in 2018.
But that doesn't mean, particularly in the past 10 years, caregivers have no choice but to sit back and watch their loved ones, essentially, disappear.
"Many people in the past considered it to be the end of all sorts of things, but, in fact, it is a signal that you can do everything as long as it is adaptive to your specific issues," explained Dr. Jennifer Ingram.
'Caregivers ride the fastest, scariest and (most) emotional roller-coaster everyday.'
"We know how this particular disease evolves. It is over a protracted period of time, and there's lots of living to be done in the interim."
Dr. Ingram heads the team at Kawartha Centre in Peterborough. By focusing on action, research and care, the practice is redefining healthy aging through expert, compassionate care for clients experiencing dementia.
Dr. Ingram said it is the caregivers that have to adapt because it is their schedules that will have to change, and they're the ones who have to create happiness.

"The No. 1 key is to have family, a companion, partner or a friend with whom the life journey continues," she said.
Issues of isolation, depression, loss of weight, mismanagement of medication, poor sleep patterns and increased emergency visits start to occur in the absence of a strong support group.
"To truly help someone with Alzheimer's, you must leave your own world and enter theirs," said Hele, who's father was diagnosed with Alzheimer's at the age of 55.   
Currently, more than 564,000 Canadians are living with dementia. By 2031, this figure is expected to rise to 937,000, an increase of 66 per cent.
According to the local Alzheimer's Society, which serves Peterborough and Kawartha Lakes, there will be approximately 5,400 seniors over the age of 65 living locally with dementia in 2019.
"We're meeting more people than we ever have before that are being diagnosed with the disease," explained Leslie Parham, executive director at the local Alzheimer's Society.
The agency provides education and support for people living with the disease as well as for family and friends.
"Most people who arrive are grieving. It's either the person themselves or a family member," explained Parham. "People worry about their quality of life."
Hele said her father, a truck driver for 30 years, hid his disease in the early stages and ended up isolating himself at his Omemee home.
"He was diagnosed so young, and it was hard for him to understand," added Hele. "You could tell he didn't want to lose his dignity and pride."
Thirteen months before his death, Vesterfelt had lost 30 pounds, was malnourished and was not taking his medication. His children finally convinced him to go to the hospital, and he spent his final year on the long-term care floor at Peterborough Regional Health Centre.
Hele and her siblings were there day and night to make sure their father had everything he needed.
"Sometimes roles in life change for parents and children. Who you once looked up to, now looks up to you," she said. "As hard as it was, I'd do it all over again just to be with him."
But the worst also came with best. Vesterfelt was no longer isolated with his family by his side. They celebrated birthdays and holidays to the fullest.
"He still had his humour, and he tried to hide the disease by showing he still had it (humour)," Hele said while looking at a handful of photos taken of Vesterfelt with family over the last year of his life.
Dr. Ingram said meals, medication, money management and transportation require special attention by the trusted person in someone's life with dementia.
"All of those, if they go off the rails, are problems," she said. "They're typically the areas where people have problems. It can really make all the difference in health care."
A number of studies and initiatives have been undertaken in recent years to mitigate the symptoms of Alzheimer's and related dementia, which include vascular dementia, frontotemporal dementia — including Pick's disease — Creutzfeldt-Jakob disease and Lewy body dementia.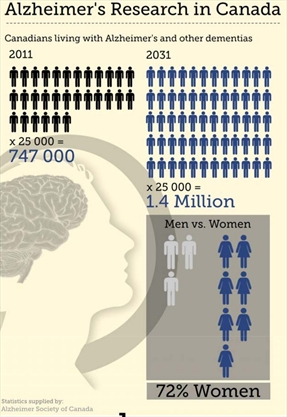 And as studies show, there are many ways to improve a people's life including physical fitness.
As the program co-ordinator and recreation manager at Fenelon Court Long-Term Care Home in Fenelon Falls, Sharon Yeo is committed to finding ways to help residents stay physically and mentally healthy. It can be a huge challenge, as close to 80 per cent of residents have some type of cognitive impairment ranging from memory loss and difficulty performing familiar tasks to changes in mood and behaviour, problems with language and physical impairment.
Two years ago, Yeo took part in a unique pilot study co-ordinated through Music Care Partners with nursing homes in Beaverton and Port Perry. The study aimed to determine if music can be used as a tool to decrease isolation and loneliness, facilitate the implementation of a music-care initiative at the three nursing homes and understand how music changed long-term care culture.
Music is increasingly being recognized in health-care communities as an effective psychosocial and biomedical intervention to improve many aspects of quality of life. Music Care is an approach that allows the therapeutic principles of sound and music to inform caring practices.
In early 2017, Yeo and her colleagues, as well as those at the other participating nursing homes, received Room 217 Level One training to facilitate the project. The Room 217 Foundation was created by Bev and Rob Foster and named for the Uxbridge Cottage Hospital room her father occupied during his final days. Foster and her family saw for themselves how the hymns they sang to him — and he too tried to sing — companioned her father in his final transition. Over the years, the program has grown in scope and impact.
During May, June and July 2017, 290 music-care visits occurred at the participating nursing homes.
"Not one of us would say we had any music abilities ... By the end of it all, we were all singing — not well, mind you — but we all have a greater understanding of music and the impact it can have on people's well-being," said Yeo. "A magic pill does not exist for Alzheimer's. We have to find different tools ... We can't slow it down, but we can make the progression easier."
Over the past two years, Yeo and the staff have seen firsthand the impact music can have on residents in a wide range of health-care stages.
In one instance, a dying resident was also marking a birthday. Normally, the staff get together, bring balloons, sing "Happy Birthday," "make a big deal out of it all,"  said Yeo. "But it wasn't appropriate in this situation."
So staff went into the resident's room, placed their hands on her and, softly and very slowly, hummed "Happy Birthday."
"You could see her visibly relax," said Yeo. "She was so calm and quiet and almost serene."
The resident passed away not long after.
"But it reaffirmed for us that music isn't just big entertainment," said Yeo. "It was so meaningful. Those vibrations and beats. I believe they made an impact."

Fenelon Court is fortunate to have a music therapist who has been helpful in taking what was learned in the research project forward.
Much of the interaction is one to one, but the nursing home also has a bell choir, and residents enjoy taking part in the Pathways singalong program on Sundays.
"We have a gentleman who plays the spoons," said Yeo. "He's in late-stage Alzheimer's and he doesn't really speak, but he's himself with those spoons."
Another resident requires assistance with daily activities and is, for the most part, unresponsive.
"Yet when the music plays, there is such joy on her face. She just reconnects," said Yeo. "Even if the resident can't express it, we can see it in their breathing, in their smiles, in their body language.
The music program is not the only way that health-care providers and caregivers are helping Alzheimer and dementia patients move from "isolation to integration," which can positively influence health and wellness.
The Alzheimer Society of Durham Region, which oversees Brock Township, has been running a number of unique programs designed to assist those with cognitive challenges as well as their loved ones and caregivers.
For several years, the group has offered Brain Wave Cafés in a variety of locations including Brock, although currently, the program is only running in Bowmanville, Oshawa and Whitby. These cafés offer an informal place for people to meet up on a regular basis for a coffee, get information, share experiences and participate in "healthy brain" activities within their local communities.
But it's not always "food" on the "menu."
When it comes to Minds in Motion, it's also fitness.
"The key is to get participants out in the community and, hopefully, engaged in other community programs," explained Alzheimer Society of Peterborough, Kawartha Lakes, Northumberland and Haliburton Minds in Motion co-ordinator Jennifer Stubbert. "We're not focusing on memory loss. We're focusing on all the great things they can still do to keep active and be part of the community."
This recreation program runs for eight consecutive weeks at various locations throughout the region.
Each two-hour session, which involves both the individual and their care partner, is divided into two parts. The first half is 45 to 60 minutes of gentle physical exercise geared to the abilities of each participant, followed by 45 to 60 minutes of mentally stimulating activities.
The program is best suited to those with mild to moderate memory loss.
For the person with dementia, the program offers improved balance, mobility, flexibility and alertness, increased confidence and comfort with their own circumstance, and mutual support from others facing similar experiences.
For the care partners, it's an opportunity to focus on their own health and have fun with their partner. There is also the added benefit of seeing the person they are caring for enjoying themselves.
Studies on the program have found that participants' endurance improved by 20 per cent and their strength by 15 per cent. A decrease in social isolation was also reported, and more than three-quarters of participants continued with physical and social programs afterwards.
Many participants also experienced sharpened mental functioning, sometimes lasting two to three days
"I always use the phrase that 'I want their dance card to be full'," explained Dr. Ingram, adding that she encourages people from the get-go to establish a very social schedule. "Whatever the groups are in your life, they need to stay and they need to be absolutely entrenched in your life calendar."
Another program the society offers is called Taking Care Of Our Lives. It's for people living with the disease and uses a self-management model.
"It's to help people manage their own symptoms," added Parham. "It can be simple, practical life skills, including how to disclose their diagnosis to other people."
The Alzheimer's Society offers a visiting program as well. Trained volunteers go and visit clients with the disease. Sometimes they go on outings in the community.
"And right now, we are in need of volunteers in the city of Kawartha Lakes. It's a once-a-week commitment, usually an hour or two hours per visit," said Parham.
She added the volunteer is matched with the client based on personal interests.
"It's very rewarding," said Parham.
Parham added the visiting program serves two purposes: it's good for the person with the disease and it gives their caregiver a break.
"Juggling home life, work, trying to be a good mom, daughter and wife, it is tough and tiring," admitted Hele of the challenges facing caregivers. "Caregivers ride the fastest, scariest and (most) emotional roller-coaster everyday."